May 31 , 2012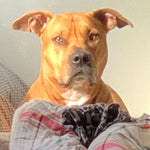 Last month was a great success for our Give Back Program! With your help we were able to raise and donate $845 to 501(c)3 nonprofit One Horse At A Time, Inc. of Kentucky.
This month, beginning June 1, and running for 30 days, will be a drive for Brite Futures Farm. BFF, located in Pennsylvania, does not only rescue, re-home and provide sanctuary to horses, they also do the same for dogs and cats http://www.brightfuturesfarm.net/ (or visit and their Facebook page https://www.facebook.com/BrightFuturesFarm)
A volunteer named Dawn Hamilton purchased a large SleekEZ after reading many good reviews, and she loved how it worked. She contacted us directly and told us about the nonprofit for whom she contributed her time. After some discussion, we decided that we would love to help out Brite Futures Farm because we appreciate the dedication that they have exhibited to a wonderful cause.
Bev Dee, the founder and executive director of Brite Futures Farm, then contacted us. Our thoughts came together and here we are today contributing to a fund drive for this awesome nonprofit.
BIO of Bev Dee:
"Bev Dee's mission to save horses from abuse and neglect began 12 years ago with a horse named "Brite Decision." When Bev saw Brite for the first time, he walked slowly from the back of his stall to greet her. Despite his obvious pain, he was gentle and friendly and Bev connected with him immediately. She knew there was something special about him. When she asked a lady at the rescue about him, she was told that two veterinarians had recommended euthanasia. Bev asked if she could adopt Brite and to her surprise, the lady at the recue told her to "take him."

Bev knew that there was no guarantee that Brite would survive, but she wanted to help the sweet horse that had captured her heart. She took Brite home, had him vetted immediately and found out that he had lots of problems. It took 36 long months of constant vet care and rehabilitation, but Brite was finally healed enough to be able to live comfortably.

Today, Brite is happy and healthy and pasture sound—and he has become the heart and soul of the rescue efforts at Bright Futures Farm. He is always kind and never complains. He will do whatever is asked of him and even babysits new horses at the rescue like a doting mother—almost like he knows it's his job to help the new horses heal and grow strong again.

"Brite Decision" was the best decision Bev Dee ever made and he is the sole reason that she founded Bright Futures Farm. He is also the reason that over 300 hurting and abused horses have been saved!" - BFF
If you would like 50 percent of your purchase (excluding s/h) to go towards BFF, please type in "BRITE" on the product page when purchasing. At the end of the 30 days a check will be issued to BFF with the proceeds.
Thank you for all your help and support!
Jennifer Tipton/SleekEZ
---